introduction
the new look iQrecipes part of iQ series by Annie
The iQrecipes site has been live since the 4th Jan 2014, an extension of the iQ series, and OrganiciQ, essentially here to help you eat healthily, enjoy cooking and most importantly create meals from good fresh food, here to steer you through hype, keep up with the trends and provide you balance.
Essentially each and every one of us is different with different metabolic and nutrition needs as well as different aims and goals that we need to achieve or survive and thrive.
For information about Annie Veale and other projects she has running please visit www.annieveale.com
The person behind this website and the collection is Annie Veale, having active involvement in the foods sector since the 90s with a collection of chef and food science qualifications dating back to that period I have cooked for active, healthy people wanting healthy, nutritious foods and made a commitment in 2005 to provide further resources surrounding nutrition and lifestyle.
In 2015 I furthered my nutritional qualifications with a focus on health and medical conditions and am able to offer full counsel or resources to help you achieve your goals and improve your health or performance. During 2018 I achieved qualifications to allow me to provide personal training. I am always interested in extending my knowledge or opportunities to collaborate with other professionals committed to health and wellbeing.
What's going on...
Making the most of natural fats and
sugars, this dish is indulgent, divine and an excellent choice after a meal such as chicken salad or if you have a high metabolism.
It contains all of the proteins your body needs and is one of very few dishes containing minerals in usable quantities across the board.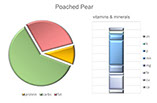 Add buckwheat and rye flakes to your oats to add extra depth to the flavour and nutritional benefit, one of the go-to staples for many for energy, there are however, many ways to make it so much more.
Balance your fats to maximise essential nutrients added by seeds and berries.
Sardines are
another of my
favourite dishes,
the thrifty part of
me loves the fact you can have an amazing meal on pence.
The nutritional content of these oily fish, packed with essential oils and fats as well as an impressive mineral content make them a healthy option.
Served here with squid, roast shallot, black bean medlay and cavolo nero, you may also opt for samphire or seaweed.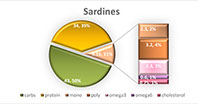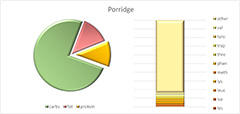 Top Tips

Making it easier to have great tasting good health.
Always buy whole spices and grind fresh.
Add fresh herbs to your regular salads, to really boost the super food status. Mint, baby leaf borage, parsley, coriander, golden oregano all have excellent salad leaves, just select the flavour combinations that suit you.
Always choose organic flour, doves do the most brilliant gluten free, organic flour.
Make your fats nutritious, avoid too much Omega 6 and increase your intake of Omega 3. Do opt for cream to add to your porridge or fruit salad.

Do eat cholesterol, however ensure you are increasing your HDL intake and not your LDL.
When roasting pumpkin place on salted kitchen towel first and add to a hot tray with salted hazelnut oil.
Add organic buckwheat and rye flakes to your organic oats when making porridge.
The best advice is to always buy healthy, fresh ingredients and keep it simple!
Macros are carbohydrate, protein and fats, we need these to stay alive.
To have tailored macro-plans and micro-plans for your current lifestyle get in touch.
Collection
For optimum performance and nutritional health contact me for tailor made plans, recipes and more.
Contact me for your own bespoke, crafted nutritional collection with planners and tips tailored to help you achieve your lifestyle and fitness goals whatever your time, budget and constraints.
SALAD IDEAS
how to get the most from your micros
REPLENISH
essential nutrition and where to find it
Contact Annie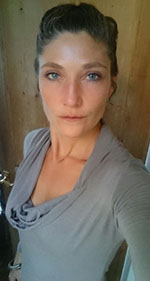 all rights reserved © Annie Veale 2014-2019
Making healthy taste Great